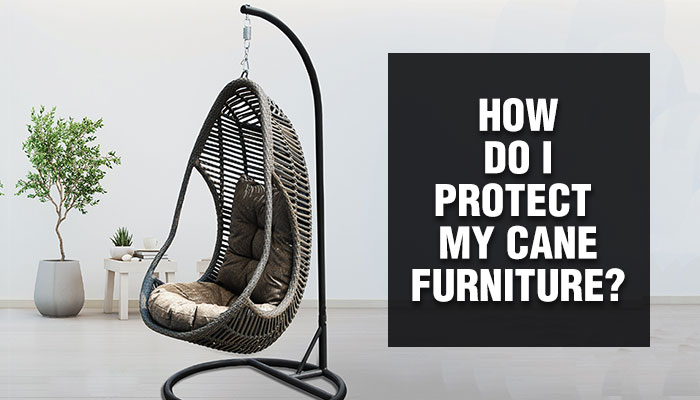 Cane furniture adds a unique touch of personality whether you place it indoors or outdoors.
However, cane is porous. This means that if not protected well and not taken care of properly, your cane furniture will quickly lose its sheen, dry out and crack, and wear out in no time.
Polyurethane is a great way to protect your cane furniture from the elements and wear and tear.
Polyurethane is available in oil-based and water-based forms. Both types of polyurethane can protect and add durability to your cane furniture. However, if you will use the cane furniture outdoors, buy a polyurethane that's recommended for outdoor usage.
Step 1 – Clean the Cane Furniture Completely
Place the cane furniture on a piece of drop cloth. Begin by vacuuming the cane completely. This will remove all the dirt lying between the woven cane strands.
Grab a pair of rubber gloves and put them on. Pour ¼ cup bleach, 1tsp dish soap and warm water in a bucket. Fill the bucket until it's almost full. Now, scrub the cane gently using a sponge and the soapy water. Once done, wipe the cane furniture dry using a rag.
If the cane furniture has deep pits or stains, you can consider sanding the surface until smooth using a 220-grit sandpaper. Wipe the dusty residue using a soft damp cloth and allow it to dry. You can even vacuum the cane surface again.
Step 2 – Check the Cane for Damage
Look at every piece of cane furniture before applying the sealer to ensure it has no cane-weave or frame damage. If you find that it has any damage, consider repairing it or you might have to replace the piece entirely.
Step 3 – Apply the Polyurethane Sealant
Before you begin, turn your furniture upside down to ensure you are able to apply the polyurethane easily on hard-to-reach areas.
Now, open the can of polyurethane and stir it well to ensure it's totally blended. Dip a brush in the polyurethane and begin applying a thin coat to the cane.
Alternatively, begin to apply the coat of polyurethane in small sections starting from the top and moving down on chairs and from the left to right on tables.
Apply a thin coat of polyurethane while keeping the brush at a right angle at all times. This will ensure that the polyurethane spreads out creating a thin coat without any drip.
Polyurethane dries to an extremely dry finish but could be very brittle if applied too thick, which can cause cracking. That's why, thin coats are highly recommended when applying polyurethane.
Now inspect your cane furniture thoroughly to ensure that you have covered it completely with polyurethane, especially the seams and the corners. Allow the polyurethane to dry completely. This could take anywhere from 6 to 8 hours.
Tips and Notes
Polyurethane is very toxic and tends to emit a strong odour. You must apply polyurethane only in an open, well-ventilated area.
Avoid leaving cane furniture outdoors for prolonged duration. Constant exposure to extreme heat or rain can severely damage cane furniture.