*Wicker is a method of weaving an item made from any thin materials woven in an item such as furniture or basketware. It can be made from rattan(ie. Cane), resin, wire, willow etc. A lot of cane furniture (ie rattan) is not wicker.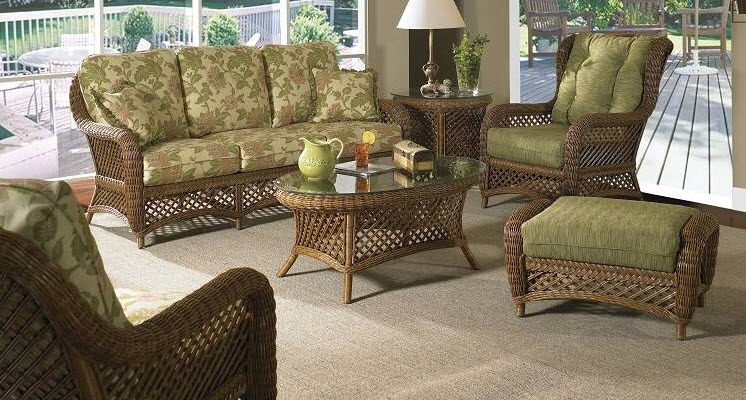 Wicker is one of the most popular choices for outdoor furniture. Many upscale beachfront resorts and commercial venues use wicker furniture in their lawns and pool side areas. It is decorative, modern, stylish and comes in a range of colors that allow the buyers to match it with any decor. Its lightweight property makes it easy to shift, move and reorder wicker furniture according to preferences.
Wicker furniture comes with a beautiful weave pattern that is sometimes included with other intricate designs to enhance it appearance. It can be available in earthy colors or can be stained or painted to suit any style. It can be woven in to different shapes and sizes. It is no surprise that you get chairs, tables, stools, swing sets and even sofas made from wicker. It is a cost-friendly, yet trendy furniture choice for many commercial and residential owners.
Difference between synthetic resin wicker and natural wicker
Synthetic resin: Synthetic wicker is made from either Polyethylene or PVC. A polymerization process is used to make this type of wicker. It uses resin extract from plants to create a durable material which can be used in all weathers. The liquids are hardened permanently and woven into wicker furniture. Usually, the furniture is given an aluminum frame to keep it light weight, but strong.
Synthetic wicker is an ideal choice for outdoor sectionals, dining sets and outdoor daybeds. They are able to withstand temperature changes and can be used as permanent outdoor furniture.
Natural wicker: Seagrass, rattan poles or rattan skin, water hyacinth are used to make natural wicker. It's a lot less supple and does not heat up easily when compared to synthetic wicker. However, natural wicker is largely susceptible to changes in weather conditions like humidity, sunshine, cold climate and rain. If left in warm climates too long, it can get dry and brittle, causing it to break easily. Natural cane or natural wicker is preferably used under cover or indoors.
What is rattan?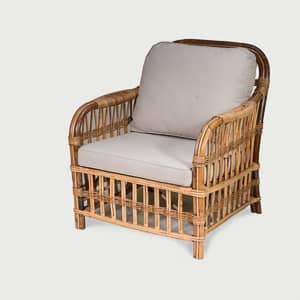 Rattan and wicker are sometimes used interchangeably but they're not the same thing. Rattan is a natural plant fiber which is used for making wicker furniture while wicker refers to any thin woven materials. Due to its 'natural' origins, rattan is more vulnerable to rotting or drying out if not cared for regularly.
It is clear from the above that synthetic resin is an ideal material for outdoor furniture. It is durable, cost-friendly, and more importantly, it is better able to withstand changes in weather. However mold older wicker resin furniture has deteriorated and gone brittle.
So the question here needs to be rephrased to-'Is it safe to use rattan wicker furniture outdoors?'
Artificial wicker for outdoors
Natural wicker is mostly harvested from the forests of south-east Asia. It is then stripped, cut and hand woven into furniture. When you buy rattan wicker furniture, you are getting organic, hand-made products. Cane or Rattan regrows quickly after the harvest.
However, natural wicker is not intended for outdoor use. Due to its organic origins, it deteriorates rather quickly. It is a good choice for foyers and balconies, provided that it is safe from direct rain and sunshine. Cane furniture made out of thicker cane, lasts longer in the weather as does the Kubu species of cane vines.
If you do use natural wicker furniture outside, you may have to bring it is during rain and hot sun, otherwise, exposing it to harsh climatic elements will just reduce its shelf life. Be prepared to regularly replace your natural wicker outdoor furniture as it has a short lifespan.
Also, if you are intending to buy antique wicker furniture, then you need to keep them indoors only or under cover from rain and sun. Damaged cane can be repaired by experts unless dur to bad weathering it has become brittle.
Some furniture companies guarantee a long life on natural wicker furniture by offering 'water-proof' coats and polishes that will help protect it from mildew, mold, moisture and sun. However, these are only temporary, and over time, they will wear off. The best way to ensure a long life for your natural wicker furniture is by keeping it indoors.
Verdict
If you want wicker furniture for your lawns, gardens and poolsides, resin wicker is the way to go. Paper fiber wicker or natural rattan cannot be used outside for long periods of time. Doing so will only force you to replace the furniture regularly.
However most resin furniture cannot be repaired once broken as resign wicker repair materials are not readily available as there are so many variations of colour/texture combinations.
No matter the material you choose, wicker furniture needs regular care and maintenance. Its intricate weave easily traps dust and other unwanted outdoor material. Wicker furniture that is kept indoors will also need maintenance, albeit less regularly than outdoor wicker.
Hopefully, the above points have helped you understand the different types of wicker furniture and what would suit your needs best. If you are looking for high quality furniture for your outdoor area, be sure to visit www.cobracane.com.au.
Cobra Cane is Melbourne's leading cane and wicker specialist. We specialise in replacing, repairing and refurbishing your wicker and cane furniture. We also feature a wide range of cane furniture, accessories, furniture sets and more. Whatever requirement you may have for your outdoor furniture, we are sure we can help you.